How to Advertise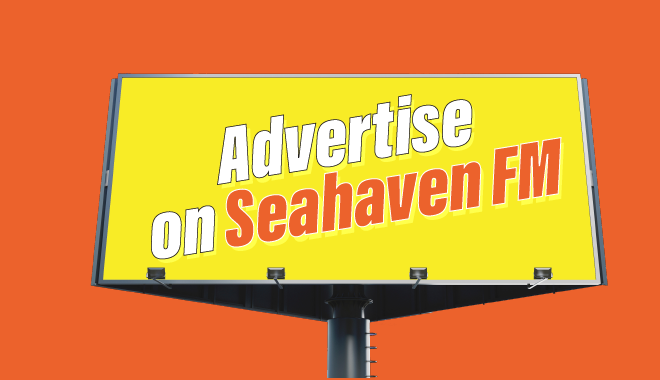 There is nothing better than precisely targeted marketing for your business is there? We all want to avoid wasting our precious marketing budget.
With Seahaven FM radio advertising you can choose to stream your ads to exactly where your customers are:
Eastbourne, Polegate and Pevensey only
Seaford, Newhaven and Lewes only
or both areas!
And don't forget there are so many ways to listen now:
Ask Alexa or Google Home to "Enable Seahaven FM"
Download our app to listen on your phone
Go to the website and click 'listen now' from any mobile or desktop device
On your Smart TV via the RadioPlayer app
And of course there is still the radio at home, work or in your car!
Ads can actually be heard all along the coast from Bexhill to Brighton as you travel.
Call 01323 886 446 to find out more.
Why choose Seahaven FM for your Radio Ads Campaign?
As well as the local targeting, there are many other benefits:
Value for Money - we are a not-for-profit community radio station. We don't have huge running costs or shareholders to pay. This is directly reflected in the very competitive fees for our advertising options versus other radio stations.
Commercial ads are made by an professional award-winning team.
A great choice of promotional options utilising radio presenters and ads and more.
Listeners hear everything that is played every time - it's not like a newspaper, magazine or social post that may be overlooked as people scan or scroll through.
More attention is paid to what is said, or ads that are played, because everything is local and relevant to listeners.
People of all ages enjoy the station - our playlist is aimed to please everyone with the desire not to hear the same songs repeated, our musical mix is across the 8 decades, since the 1950s when music was first specifically made for teenagers, right through the decades of the 60s, 70s, 80s, 90s and all of this millennium, including the current charts. A 25 year old listener at his workplace said that other mainstream national and regional stations either had too much chat, were too much aimed at teens, or too repetitive. Seahaven FM got it just right!
We engage with listeners on social media, have a What's On page and local town community websites where your business is listed too.
We're well established having started in Ouse Valley area in 2011
Who advertises with Seahaven FM?
You could join this fantastic group of advertisers that raise their profile and boost sales via radio advertising:
Lightning Fibre
VR Flowers
Eastbourne Auctions
Newhaven Chamber of Commerce
Eastbourne Chamber of Commerce
AtoB Furniture
Bengal Palace Restaurant, Burger Box
Denton Island Bowls Club
Everett Tiles
Marks Jewellers
Plumpton Race Course
Seaford Fencing