Wendy Wells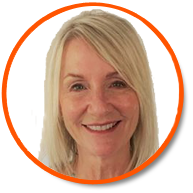 Wendy Wells
After presenting 'The Midnight Hour' twice weekly from March 2022 Wendy moved to daylight hours with 'Wendy's Weekender' on Saturday afternoons from 3pm to 5pm.
No doubt the odd stories will continue along with some of Wendy's Wonders, together with local happenings on a need to know/nice to know basis. Nothing too serious, keeping it lighthearted for the weekend.
Wendy has previous experience as Saturday Breakfast Host with Splash FM (Worthing) in the mid 2000's, Saturday Breakfast on Uckfield FM and numerous Festival and Community Stations since 1992, including Brighton Festival FM - plus, two years writing and presenting local news programmes on cable TV networks in the early 2000's.
Her love for the unique connections made and shared through the medium of radio shines on, she hopes to share some thoughts and smiles with you.
Sussex born and bred, Wendy lived in Brighton for 20 years and has been a Seaford resident since 2008.
---
More about Wendy's Show Wendys Weekender.
You can contact Wendy by email at .
Or use the contact form.